As builders of public safety LTE broadband networks and former first responders, the team at PSN understands the value of broadband communications in emergency response. But there are limits to where LTE can go, even with the admirable coverage and network restoration advancements from FirstNet.
Public safety coverage areas are not limited to just those that have LTE so first responders need reliable broadband communications wherever they go. From day-to-day 911 response to pre-planned events to disaster response and recovery, the availability of broadband communications (including solid throughput and latency) is critical to access and transmit lifesaving information. They need voice and data communications at and beyond the network edge in rural response areas, wildland fires, and maritime rescue zones to name a few. Cell signals needs to penetrate walls in urban settings within buildings, parking garages, elevator shafts, stairwells, tunnels, subways, etc.
Understanding this need, PSN started working in 2018 with a few small companies focused on new network extension solutions that select the strongest of multiple available networks, create stand-alone mesh networks, and amplify power to receive a stronger signal. After prototype testing, capital raises, field trials…and finally early sales, each company is defying the traditional limits of LTE coverage by providing first responders with broadband network access where it does not exist today.
With these solutions, first responders now have the tools to communicate and transmit data at high rates in network deprived environments supporting emergency response operations, such as natural disasters, rural areas,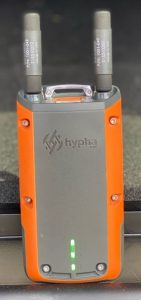 wildland urban interfaces, coastal areas, urban high rises, elevators, etc.
HyphaMESH by Wireless Innovation: Personal devices to extend range at the network edge and in structures while enabling voice and data off network capabilities so that responders can maintain direct communications with each other until they get back into network range. Operational feedback during field testing in Sydney, Australia and California in the spring of 2021 has been very positive, with reports of coverage at good data speeds in areas previously known to be dead spots.
Assured Wireless: The company behind FirstNet's MegaRange, Assured Wireless utilizes patented high power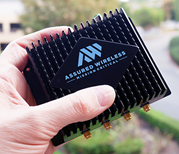 user equipment (HPUE) technology to significantly enhance LTE range, data speeds, and overall coverage. Assured Wireless' high power USB modems and modules are six times stronger than standard LTE devices, providing up to three times greater signal strength at the network edge and increasing throughput while in-building. These modems reduce dead spots in very remote and rural geographies and boost signal strength in hard-to-reach urban settings. Check out this post on LinkedIn to see how Assured Wireless modems extend LTE range: 2Mb down, 1Mb up 18 miles away from a cell tower.
Allerio: The Allerio team combined the advanced networking features of in-vehicle routers with the portability and simplicity of a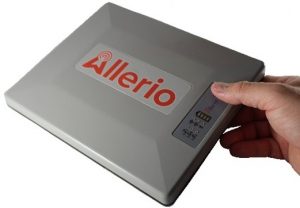 mobile hotspot to create the Allerio Mobile Hub. With the push of a button, the battery-powered, rugged Mobile Hub automatically detects and connects to the strongest of 3 nationwide LTE networks, improving coverage by up to 50% over a single LTE network, and creates a secure Wi-Fi bubble around the first responder. No longer limited to the Wi-Fi range of in-vehicle routers or coverage and security limits of commercial hotspots, first responders can now take reliable, secure Wi-Fi with them to the incident site to send and receive lifesaving information.
Public safety agencies continue to expand their mobile field operations as they engage the communities they serve. As agencies equip their personnel with tablets, smartphones, wearables, cameras, and sensors, the need for reliable connectivity in remote and other hard-to-reach areas where people live, work and recreate is paramount. Extending the range of data communications for first responders empowers public safety with an expansive array of lifesaving technology, and PSN is proud to help companies that advance that mission.